Thankfully, there are a bunch of awesome social media management tools available to help. These tools can streamline your workflows, help you save some time, and even ensure your content reaches the right audience at the right time.
Managing multiple social media accounts can be a daunting task, considering the abundance of platforms like Facebook, Instagram, Twitter, LinkedIn, TikTok, Snapchat, and more. It often feels like trying to control a group of unruly cats, minus the cuteness factor.
Thankfully, you don't have to tackle this challenge alone. There is a wide range of apps, platforms, and websites available specifically designed for efficient management of multiple social media accounts.
These tools encompass schedulers, reporting utilities, and social media management software, ensuring regular engagement with your followers. They also help prevent the possibility of missing out on any important posts, comments, or direct messages, among other valuable features.
By utilizing these tools, including some that are available for free, you can easily bring all your social media accounts under control. Let's dive right in and get started.
What is Social Media Management?
Social media management involves overseeing your brand's presence on all the social media platforms it utilizes. It's not limited to large corporations alone; small businesses and individual creators also need to effectively manage their social media presence.
The tasks involved in social media management include planning and scheduling posts, interacting with followers, addressing inquiries, staying updated with current trends, and analyzing your performance.
It may sound like a lot of work, and that's because it is! However, leveraging technology in the form of social media management tools can make a significant difference. These tools enable you to:
Create and schedule social media posts well in advance.
Respond to comments and direct messages from multiple profiles using a unified inbox.
Monitor and analyze analytics across all your accounts and platforms from a single location.
Generate comprehensive performance reports to gain valuable insights.
Automate audience and industry research through social listening and brand monitoring.
Organize and make creative assets readily accessible to your entire team.
Enhance your social customer support processes, response times, and customer satisfaction scores.
A social media management tool can range from a simple photo editing app to an all-in-one dashboard solution (cough—such as Hootsuite).
The 10 best social media management tools for small-to-medium businesses
The tools are not arranged in any particular order and they're all great in their own unique ways. If there's a reason you love a tool and I didn't mention it, feel free to give it a shout in the comments section to help others understand more about that particular tool.
Let's look through each tool!
1. Hootsuite
Manage all your social media in one place.
Price: Discover our range of paid plans starting at $99 per month, complete with a 30-day free trial.
Description: Hootsuite, widely recognized as the leading social media management tool, boasts a user base of over 18 million individuals and more than 800 Fortune 1000 companies. Its success stems from its all-encompassing platform that empowers you to curate and schedule content, track your social metrics, launch social media ads, and much more.
Unique Value: With its comprehensive features, Hootsuite offers numerous benefits that users adore. These include the ability to monitor your social media presence across multiple accounts and keywords, connect with over 35 social media networks, and efficiently schedule social media posts in bulk.
2. Sprout Social
Real people. Real brands. Real connection.
Price: Explore our paid plans starting at $89 per user per month, accompanied by a 30-day trial.
Description: Much like Hootsuite, Sprout Social brings together a range of social media tools within a single platform. From scheduling and monitoring social media activity to utilizing its analytics tool for comprehensive reporting, Sprout Social offers a holistic solution. Setting itself apart, Sprout Social stands out by incorporating customer relationship management (CRM) features. This allows you to gather complete customer profiles, enabling you to better serve them and cultivate stronger relationships.
Unique Value: Among the many accolades Sprout Social has received, its exceptional reporting capabilities are frequently praised. Social media managers often find the reports to be so impressive and visually appealing that they can be downloaded and shared with managers or clients without any need for editing.
3. Agora Pulse
Social media management simplified.
Price: Enjoy our free plan, or consider our paid plans starting at $99 per month.
Description: Similar to the previously mentioned social media management platforms, Agora Pulse is an all-in-one solution that encompasses social media scheduling, responding to engagements, and comprehensive reporting features.
Unique Value: With Agora Pulse, you benefit from a range of distinctive features at an affordable price. These include competitor analysis, allowing you to gain insights from your competitors' social media strategies, and social listening, enabling you to monitor and analyze conversations happening across social platforms.
4. Sendible
The #1 social media management tool for agencies.
Price: Get started with our plans starting at $29 per month, and enjoy a 14-day free trial.
Description: Designed specifically for agencies handling multiple clients, Sendible is a powerful social media management tool. In addition to offering a comprehensive set of features commonly found in social media management tools, Sendible provides the unique ability to create customized dashboards that align with your branding, helping you attract new clients.
Unique Value: Sendible stands out with its impressive integrations, including the Canva graphics editor, a convenient royalty-free image search, and YouTube search functionality. Moreover, Sendible offers automation capabilities, allowing you to save time by automating repetitive tasks.
5. eClincher
Best-in-class social media management software.
Price: Take advantage of our plans starting at $59 per month, and enjoy a 14-day free trial.
Description: Just like other social media management tools, eClincher offers essential features such as post scheduling, publishing, social message response through its social inbox, and comprehensive social media performance analysis.
Unique Value: eClincher sets itself apart from other tools by providing additional capabilities. You can utilize auto-posting with smart queues and RSS feeds to streamline your content sharing. The platform also offers a media library for easy organization and access to your images. Additionally, eClincher allows you to search for social media influencers, helping you identify and engage with key individuals in your industry.
6. Social Pilot
Simple & cost-effective social media management tool for teams and agencies.
Price: Get started with our plans starting at $30 per month, and enjoy a 14-day free trial.
Description: Social Pilot stands out by offering a comprehensive set of social media management tools, including scheduling and analytics, within a user-friendly dashboard. What makes it particularly appealing is its affordable pricing structure. It also includes a client management feature, making it an excellent choice for agencies with multiple team members and diverse client portfolios.
Unique Value: Social Pilot goes beyond the standard features by curating and suggesting content from various industries, such as tech, education, and health and fitness. This feature proves invaluable for easily finding relevant and engaging content. Additionally, Social Pilot offers white label reports, a particularly useful feature for agencies, allowing them to present customized reports to clients under their own branding.
7. CoSchedule
#1 social media calendar.
Price: Enjoy our free plan, or explore our paid plans starting at $39 per user per month, accompanied by a 14-day free trial.
Description: CoSchedule prides itself on providing the best marketing calendar solution. The pricing structure reflects this, with basic access to the calendar available for free. For additional features, users can engage with the Sales team to discuss their specific requirements. CoSchedule enables efficient management and collaboration with your team, allowing you to create and coordinate social media posts, content, events, and tasks.
Unique Value: CoSchedule is particularly advantageous for marketers seeking a centralized platform to organize all their projects, including social media, content, events, and emails. The ReQueue feature sets it apart by automatically identifying optimal posting times and filling gaps in your social media schedule with your best-performing posts.
8. MavSocial
Streamlined social media management.
Price: Discover our plans starting at $19 per month, and enjoy a 14-day free trial.
Description: MavSocial is a social media management tool that places emphasis on visual content. Additionally, for the higher-priced plans, it offers the capability to manage Facebook ads alongside other features.
Unique Value: In addition to the standard features like scheduling, monitoring, and reporting, MavSocial provides unique offerings. It includes a digital library where you can efficiently manage, utilize, and edit multimedia assets for your social media posts. MavSocial also offers a search engine with access to millions of stock photos, making it convenient to find captivating visuals. Another notable feature is the option to repeat your social media posts for a specified duration, helping you maximize their reach and impact.
9. Crowdfire
Social media management, simplified.
Price: Take advantage of our free plan, or explore our paid plans starting at $9.99 per month.
Description: Crowdfire has continually evolved by introducing new features over the years. In addition to content scheduling, it offers Twitter account management functionalities, allowing you to efficiently follow and unfollow users. Crowdfire also provides article suggestions for seamless sharing.
Unique Value: Crowdfire distinguishes itself from many other social media management tools by offering the ability to connect your blogs, YouTube channel, and online shops. It automatically generates social media posts for every update you make on these platforms, streamlining your content sharing process. This unique feature saves you time and effort while ensuring your updates are effectively distributed across social media platforms.
10. SocialBee
Seamless social media posting for all your profiles.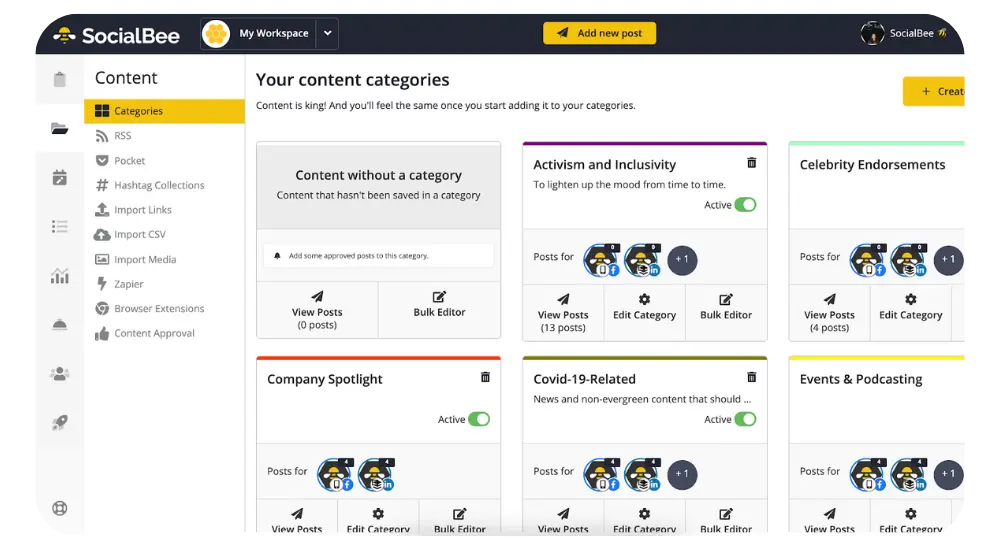 Price: Explore our plans starting at $19 per month, and enjoy a 14-day free trial.
Description: SocialBee is a user-friendly social media management tool designed to help you generate more leads with less effort. Its core features allow users to easily add, organize, and share content across multiple social channels, all from a single platform. Notably, SocialBee seamlessly integrates with Buffer for enhanced functionality.
Unique Value: SocialBee offers a highly regarded feature that allows you to recycle evergreen content while keeping it fresh through the use of post variations. This enables you to maintain consistent posting schedules while ensuring a well-balanced mix of content in each category. Furthermore, SocialBee is known for providing excellent customer support, ensuring that users receive timely assistance and guidance when needed.