When establishing a WordPress blog, it is crucial to ensure that you select a theme that possesses the appropriate features, design, support, and functionality to align with your vision. Ideally, the best WordPress themes for bloggers should minimize the need for external assistance, allowing you to independently manage your blog. You desire a theme that facilitates effortless content creation and publication, while also providing the capability to craft unique and engaging experiences for your readers. Navigating through the vast array of WordPress themes can be likened to being lost in a dense fog, particularly for beginners. Hence, this article aims to illuminate the themes that warrant your attention for your blog. To commence, we will elucidate the qualities that constitute a good WordPress theme. Subsequently, we will delve into the attributes of an excellent WordPress theme specifically tailored for bloggers, along with our recommended themes based on our own expertise.
What Qualifies a Theme as the Best Choice for WordPress Bloggers?
Your goal is not just to find any WordPress theme, but rather one that is exceptionally suitable for blogging. However, it is important to note that there are certain fundamental quality standards that all WordPress themes (at least the ones we consider recommending) should meet. We have provided a comprehensive overview of these baseline criteria in our compilation of the best free WordPress themes. To offer you a summary for your convenience, here are the key attributes that define the best WordPress themes for bloggers:
Continuous and significant development.
Positive reviews and favorable social proof.
Robust security measures.
Compatibility across various web browsers.
Seamless integration with essential WordPress plugins.
Compatibility with popular page builders.
Translation and multilingual readiness.
Effective user-experience design.
Reliable support options.
High-quality responsive and mobile design choices.
Every theme included in our list below meets these criteria. However, what distinguishes them and earned their place on this specific list is how they not only fulfill these criteria but also enhance them to specifically cater to the needs of bloggers. To provide a brief illustration, here is a selection of examples that demonstrate this concept.
Additional Qualities for the Best WordPress Theme for Bloggers:
In addition to the previously mentioned attributes, the best WordPress themes for bloggers encompass the following features:
Multiple blog post templates: The theme offers various templates to present your blog posts in different styles, allowing for versatility and engaging content presentation.
Breadcrumb navigation: The theme includes breadcrumb navigation, enabling readers to easily navigate through the content hierarchy and find their way back to previous pages.
Right-to-Left language support: It supports right-to-left languages, ensuring that bloggers targeting such languages can effectively present their content with proper alignment and readability.
Built-in support for various page builders and the Block Editor: The theme seamlessly integrates with popular page builders and the WordPress Block Editor, providing flexibility and ease of use when designing and customizing your blog.
Typography chosen for readability: The theme incorporates carefully selected typography that prioritizes readability, ensuring that your content is easily legible and enjoyable for your readers.
Page-speed optimizations: The theme includes optimizations for page speed, implementing techniques such as AMP (Accelerated Mobile Pages), render-blockers, and lightweight features to ensure fast loading times and an enhanced user experience.
A good WordPress theme for bloggers places content at the forefront, eliminating barriers that may hinder readers from consuming it. It emphasizes readability, fast loading speeds, and intuitive navigation. Each theme listed below prioritizes these considerations above all else, providing an optimal environment for bloggers and their audience.
10 of the Finest WordPress Themes for Bloggers
Discover our carefully curated collection of the finest WordPress themes designed specifically for bloggers. Whether you prefer customized options or ready-made kits, we guarantee that you'll find the perfect theme for your blog right here!
1- Divi
Divi holds the prestigious position of being our flagship product and the world's most popular premium WordPress theme. As a comprehensive website-building suite in the form of a theme, Divi empowers users with complete design control, eliminating the need for coding. Its deep integration with WooCommerce, lead generation features, split testing capabilities, design efficiency tools, extensive extendibility, and a vast array of free design resources make it truly outstanding. Notably, Divi offers free layout packs that are released on a weekly basis and added to the Divi Library.
Key Features of Divi for Bloggers
Divi presents native modules specifically designed for bloggers, enabling them to effortlessly incorporate dynamic blog content throughout their sites and style it to perfection. The Blog module, known for its versatility and power, enables users to create blog pages within seconds. Users can even select different custom post types and categories to display posts across their site.
Divi's selection of free layout packs, such as Blogger and Technology News, caters perfectly to bloggers who seek to swiftly establish a fully functional blog site design. Moreover, our blog offers numerous free blog post templates that can be downloaded for site-wide blog post design. These templates are compatible with the Gutenberg block editor, providing bloggers with the best of both worlds. Additionally, users can easily create their own blog post templates from scratch and leverage dynamic content to display post content using Divi modules. Among Divi's standout features for bloggers is the Theme Builder, allowing them to utilize Divi's visual editor to design header, footer, post, page, product, and archive templates. Once created, these templates can be assigned to any page, post, post category, author page, post archive, and more throughout their WordPress website. Bloggers can effortlessly craft category page templates from scratch or access free category page templates from our blog.
2- Astra
Astra has earned its well-deserved spot among the top WordPress themes in the repository. It serves as a blank canvas for bloggers, allowing them to shape it into precisely the kind of theme they desire. With its robust free version and powerful Pro upgrade, Astra grants users full control over headers, layouts, colors, typography, and blog/blog archive pages. It seamlessly integrates with all major page builder plugins, positioning Astra as one of the best WordPress themes for bloggers. Moreover, you can use the standalone Divi Builder plugin with Astra and gain access to all our layouts. Many users combine page builder plugins like Elementor or Beaver Builder with Astra due to its modular and customizable nature.
Other Blogger-Friendly Features of Astra:
Exceptionally lightweight and optimized for performance
Extensive customization options from the ground up
Impressive library of pre-built websites categorized based on page-builder compatibility, available for both free and Pro users
3- OceanWP
OceanWP stands as one of the most downloaded themes on the WordPress.org theme repository for valid reasons. Its free version and Pro upgrade offer speed and flexibility. With built-in support for all major page builders, you won't encounter compatibility issues regardless of the plugin you choose. OceanWP's clean codebase allows for easy customization and extension. The developers have also provided over 100 demo theme templates that can be imported and edited using your preferred builder plugin. With features like RTL support, translation readiness, and extensive customization options, OceanWP is definitely worth considering.
Other Bloggers-Friendly Features of OceanWP:
Support for RTL languages and translation
Dedicated demo theme gallery designed for page builders
Pro upgrade includes extensions
Demos, and widgets
4- Hello Elementor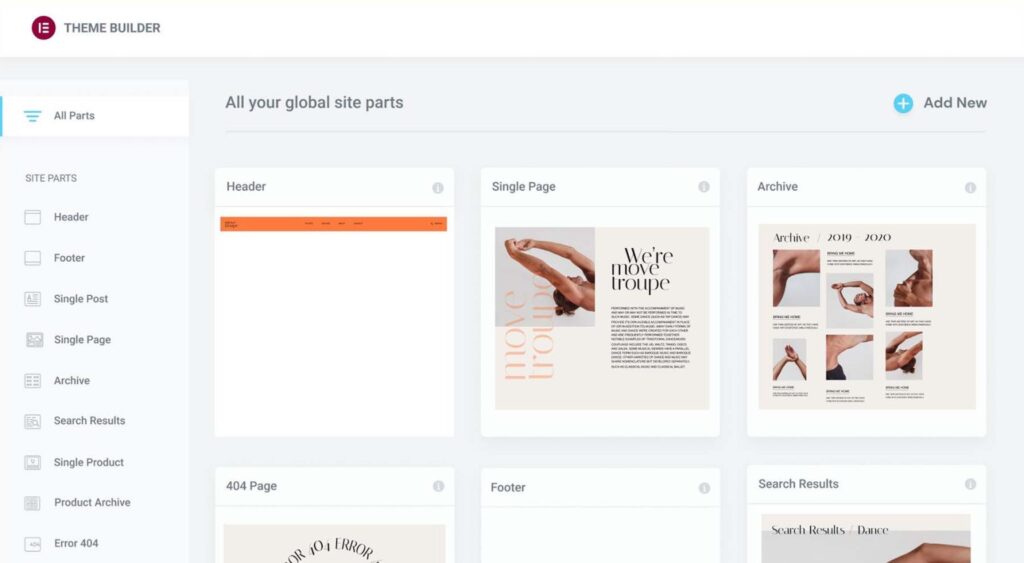 Hello Elementor serves as the perfect canvas for creating a custom-built blog. Powered by Elementor, a popular WordPress theme and page builder, Hello Elementor stands out as the best WordPress theme for bloggers who are comfortable using this builder.
Other Bloggers-Friendly Features of Hello Elementor:
Built for speed, ensuring quick loading of blog posts and pages
Over 100 ready-to-use website kits that provide inspiration for blog posts and blog page design
Packed with more than 100 modules in a visual builder, simplifying the process of building your blog
5- Neve
Neve completes our list with a fully customizable theme specifically designed for bloggers, right within the theme customizer. What sets Neve apart is its exceptional focus on speed. Unlike themes that claim to prioritize speed, Neve takes it to the next level with AMP compatibility, a feature not native to WordPress. With access to over 80 starter sites, custom layouts for different pages, and a white-label option, Neve offers a comprehensive blogging platform. Furthermore, when you integrate your favorite page builder plugin like the Divi Builder, your readers will experience nothing but a seamless browsing experience.
Other Bloggers-Friendly Features of Neve:
No reliance on jQuery, allowing for unobstructed site rendering
1-click rollbacks in case of any issues
Support for RTL languages and translation
When it comes to blogging and showcasing your utmost excellence, you deserve nothing but the best. That's why we've compiled a list of the absolute top-notch WordPress themes tailored specifically for bloggers. Additionally, for those seeking to build websites that effectively convert visitors into loyal subscribers or customers, we highly recommend exploring some of the lead generation plugins that seamlessly integrate with any theme.